Top Building Plan Services
Noah Infrastructures, the best Civil Construction Company in Chennai, provides all sorts of construction services, from design to decor. We have an in-house team of all field experts like engineers, designers, architects, surveyors, etc. Our team of qualified and experienced professionals strives to give the best and unique output. Our work will be client-oriented as we try to incorporate clients' demands and practical possibilities without affecting the functionality of the space. 
On top of everything, we provide the best Building plan services in Chennai. In every action, the beginning is essential as further measures follow it. Hence, the building plan drawing is necessary to take additional steps. By searching building plan services near me, we will pop on top. 
What are Building Plan Services?
Building plan preparation refers to the process of creating detailed architectural and engineering drawings, as well as related documentation, for a construction project. It involves translating the conceptual design and functional requirements of a building into technical plans that guide the construction process.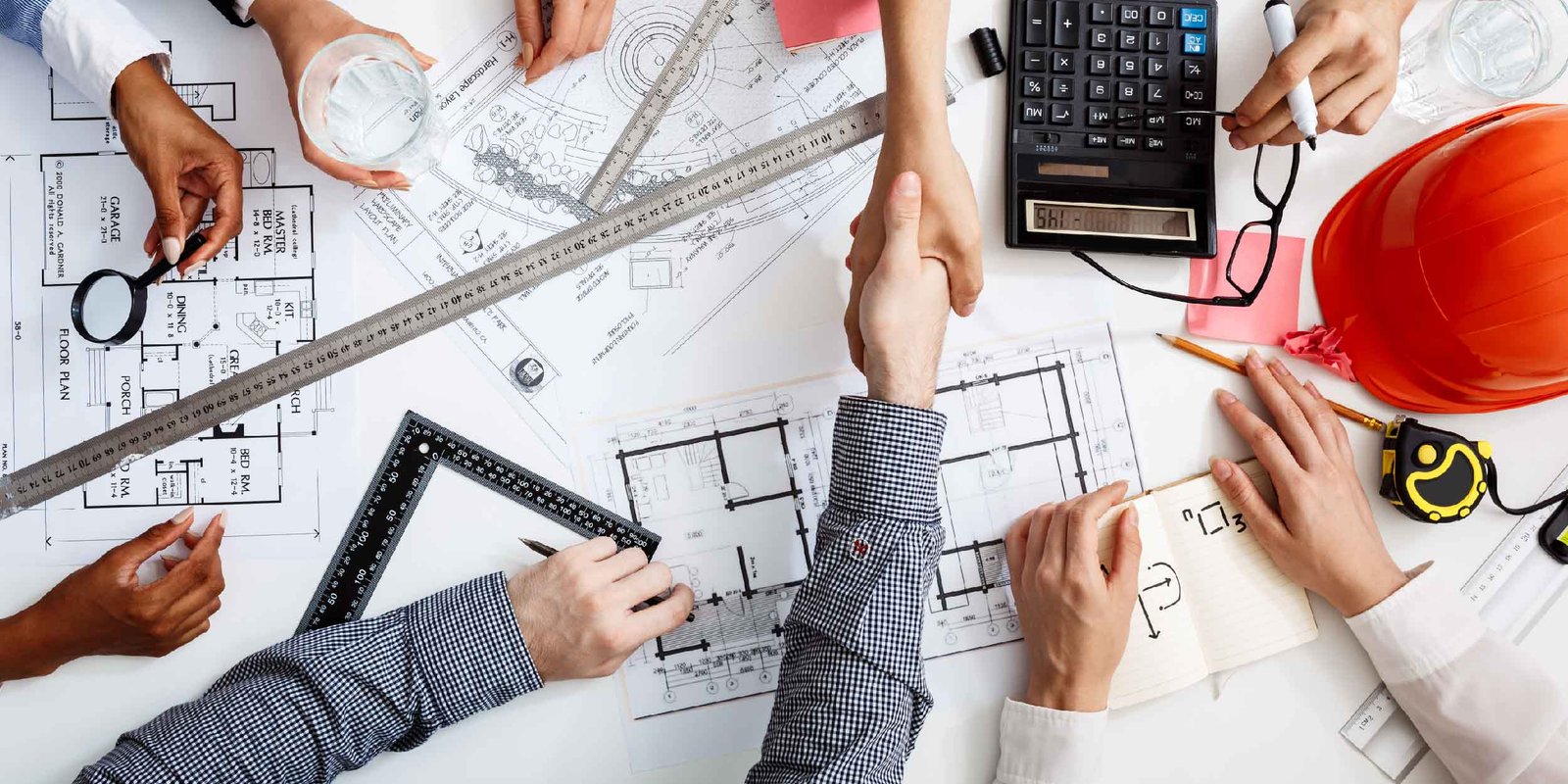 Architectural Design
Architects collaborate closely with customers to comprehend requirements and develop a design concept for the Building. They create detailed architectural drawings, including floor plans, elevations, sections, and 3D visualizations, to communicate the design intent and spatial layout. They work hard to incorporate the demand and design together.
Structural Engineering
Structural engineers analyze the Building's requirements and design the structural systems to ensure stability and safety. They prepare detailed structural drawings and calculations that specify the Building's structural elements' materials, dimensions, and connections.
Mechanical, Electrical, and Plumbing (MEP) Design
MEP engineers design the Building's mechanical, electrical, and plumbing systems. They create detailed drawings and specifications for HVAC systems, electrical layouts, lighting design, plumbing systems, fire protection, and other building services.
Construction Documentation 
Building plan services include the preparation of comprehensive construction documentation. This includes detailed drawings, specifications, and schedules that provide the necessary information for contractors to execute the construction accurately.
Permit Assistance
Design professionals help clients navigate the permitting process by preparing and submitting the necessary documentation to obtain building permits and approvals from relevant authorities. They ensure that the plans meet all requirements and address any concerns the regulatory agencies raise.
Value Engineering
Design professionals may offer value engineering services, which involve analyzing the building plans to identify cost-saving measures without compromising quality or functionality. They suggest alternative materials, construction methods, or design modifications to optimize the project's budget.
Project Management
Some design professionals provide project management services, overseeing the construction process to ensure it aligns with the building plans and design intent. They may coordinate with contractors, monitor progress, and address any issues that arise during construction.
Processes involved in Building plan preparation:
Preparing a building plan involves several steps and considerations. Here is a general outline of the process:
Define the Purpose and Scope: 
Identify the purpose of the Building and its intended use. Determine the project's scope, including the size, layout, and desired features.
Research and Regulations: 
Research local building codes, zoning regulations, and other legal requirements for your area. Ensure compliance with all applicable rules to avoid any issues during construction.
Site Analysis: 
Assess the site where the Building will be constructed. Consider factors such as topography, soil conditions, accessibility, and utilities. Determine if special considerations, such as environmental impact assessments, are necessary.
Conceptual Design: 
Develop a conceptual design that incorporates the desired features and meets the functional requirements of the Building. Consider aesthetics, functionality, sustainability, and future expansion possibilities.
Engage Professionals:
Depending on the project's complexity, you must seek advice from experts like architects, engineers, and builders. Engage their services to help refine the design, address structural considerations, and ensure compliance with relevant regulations.
Detailed Design:
Our professionals create detailed architectural and engineering drawings. These drawings should include floor plans, elevations, sections, and construction details. Consider structural systems, electrical and plumbing layouts, HVAC systems, and material specifications.
Cost Estimation: 
Prepare a detailed cost estimate for the entire project, including materials, labor, permits, and any additional expenses. This will help you assess the project's feasibility and secure financing if needed.
Obtain Permits: 
Submit the building plans and all required documentation to the appropriate authorities to obtain necessary permits and approvals. This may involve multiple agencies, such as building departments, zoning boards, and environmental agencies.
Construction Documentation: 
We prepare construction documents that outline the specific requirements and specifications. These documents include detailed drawings, specifications, schedules, and instructions.
Construction Phase: 
The construction phase can begin once the building plan is approved, and permits are obtained. We also oversee the construction process to ensure compliance with the approved procedures and address any unforeseen issues that may arise.
Noah Infrastructures is the best choice to prepare your building plan with utmost care and error-free output. The building plan services cost we quote minimal and justiciable. Our service speaks and justifies the building plan price we quoted. Seek Google's help by searching for Building plan services near me and reach us. Contact Noah Infrastructures to make your practical building plan.
Experience Quality Construction With Chennai's Top Building Contractors. Contact Us Now!