National Building Code Of India | NBC 2016 | NBC Guidelines
What is NBC?
The National Building Code of India (NBC) is an instrument issued by the Bureau of Indian Standards (BIS). NBC provides guidelines to the building construction activities all over the nation. It has given distinct building codes for residential, institutional, commercial, industrial, schools, colleges, etc. It is crucial to abide by all these guidelines, even for all government agencies, private construction companies, public work departments, etc. 
What is BIS?
The Bureau of Indian Standards is the National Standard of India. The smooth development standardization, marking, and quality certification of goods and related things is under the purview of BIS. 
History of National Building Code Of India:
After the third five-year plan(1961-1966), the Planning Commission decided to have an in-depth study of operations involved in construction. They may include administration, organizational, financial, and technical aspects. Hence, they appointed a panel of experts in 1965. The panel's suggestions are found in "Report on Economies in Construction Cost," published in 1968.
Through these reports, we learned that prevailing construction methods are outdated. Some designs are burdensome to the safety factors, and the laws of municipal bodies are obsolete. Hence, these results resulted in the National Building Code making the codes familiar nationwide. 
Indian Standard Institute (now BIS) was responsible for creating NBC. In 1970, they released the first document. It was revised in 1983 based on the steel, masonry, loading, and fire updation codes. In this revised version, three amendments were made. Two in 1987 and a third in 1997. 2005, it was again changed, and two revisions were released in 2015. 
Due to changes in building construction activities, a revision is taken up. The revised code was released 2016 as the National Building Code of India 2016. 
Here you go with the National Building Code of India 2016 pdf. 
Let us dive into some of the guidelines of National Building Code Of India:
What are the types of buildings as per NBC?
Residential, educational, institutional, assembly buildings, industrial buildings, storage buildings, etc., are the types of buildings as per NBC.
What are residential buildings, as per NBC?
As per NBC, which has a sleeping facility (permanently or temporarily), is a residential building. It may or may not contain cooking and dining facilities and should not exceed 15 persons. 
Types of Residential buildings as per NBC:
Residential buildings are categorized into:
Apartments

Lodging

Private homes

Villas

Hotels

Hostels

Dormitories

Guest houses or cottages

Residences

Bungalows
What are educational buildings as per NBC?
As per NBC, any structure housing a minimum of 20 students and used for schools, colleges, and other training organizations is an educational building.
Types of educational buildings as per NBC:
Schools up to Senior Secondary level

Colleges

Daycares

All others/training institute
What are institutional buildings, as per NBC?
As per NBC, institutional buildings are those that are used for inmates, medical or other treatment, care of people with physical and mental illnesses, care of infants, etc.
Types of institutional buildings as per NBC:
Hospital and Sanatoria

Custodial Institutions

Penal and mental institutions
What are commercial buildings, as per NBC?
As per NBC, commercial buildings are places where they encounter trading activities and display products. 
Types of commercial buildings as per NBC:
Shops

Supermarket

Mall

Market

Stores
What are industrial buildings, as per NBC?
As per NBC, industrial buildings are structures in which materials or products are manufactured or processed. This may contain various ranges of hazardous nature. 
Types of industrial buildings as per NBC:
Buildings for low-hazardous industry

Facilities for medium hazardous industry

Structures for highly hazardous industries
National Building Code Of India – General Requirements For Residential Buildings:
The plinth or any additional building element or outhouse must be placed in relation to the average road level from the site to guarantee appropriate site drainage but at a height of no less than 45 cm. 

Interior Courtyards, Covered Parking Spaces, and Garages should be thoroughly drained and raised at least 15 cm above the surrounding ground level. 

The habitable room's minimum area, height, and width is 7.50sq.m, 2.10 m and 2.75 m respectively.
Other General Requirements:
KITCHEN:
Unless otherwise specified in a pantry, every room intended for use as a kitchen must-have
A sink or other direct access to the waste pipe's grated and jammed connection for washing cooking utensils.

An impermeable floor;

At least one window with a minimum area of 1 square meter that opens directly to an interior or outdoor open space but not into a shaft and 

Refuse chutes in residential buildings that are 15 meters or taller.
BATHROOM & W. C:
Every toilet or bathroom must:
Be positioned such that at least one wall can be opened to the outside and have a minimum opening of 0.37 square meters for ventilation or a window.

Only be situated directly over any room if it has a watertight floor, other than another latrine, washing place, bath, or terrace.

Have a non-absorbent, watertight platform or seat constructed.

Be surrounded by walls or partitions, and each such wall or partition's surface must be coated with a smooth impervious material to a height of at least 1.0 m above the room's floor.

Have an impervious floor covering that slopes appropriately toward the drain rather than the verandah or any other room.

Water closets in rooms cannot be utilized for anything other than restroom use.

Each toilet and pair of urinals must have an associated flushing cistern with sufficient capacity.

A toilet on a terrace may have a maximum height of 2.2 meters, provided the toilet's area is included in the FAR.

The Municipal Sewerage system must be connected to all sewage outlets. Without such a system, a septic tank that complies with the specifications must be installed on the property.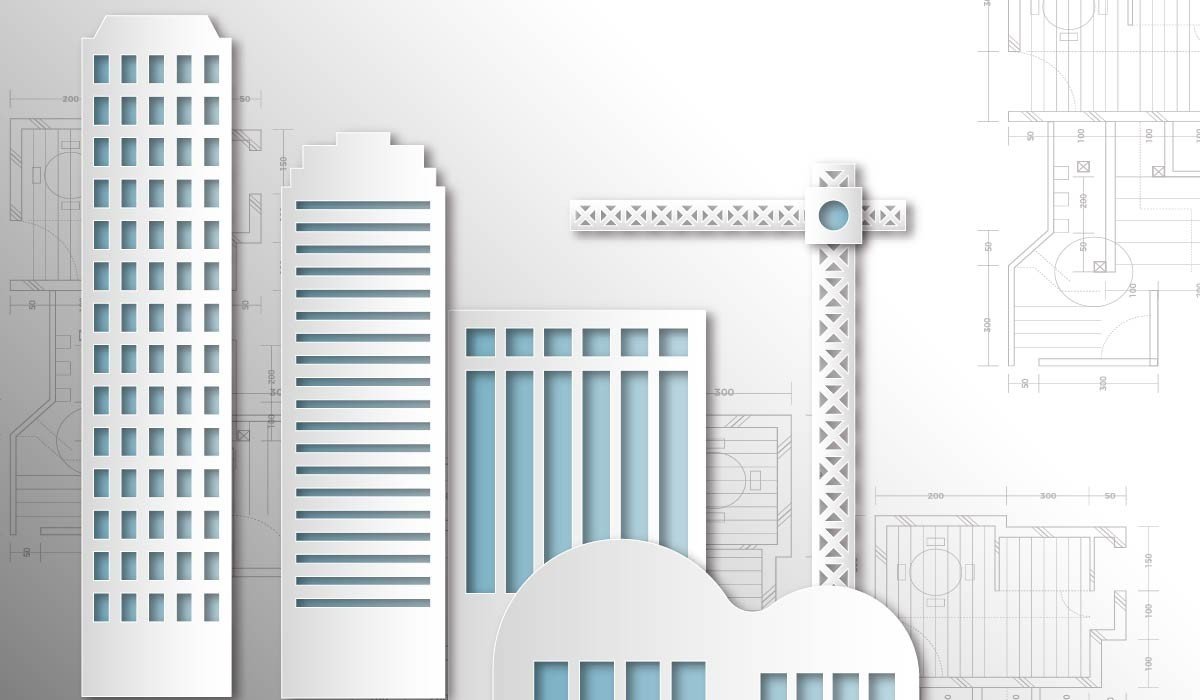 LOFTS:
Lofts are only authorized in residential and commercial structures. Such a loft may not exceed 25% of the covered area or applicable floor in size. The minimum height between the attic and ceiling must be 1.75 meters.
MEZZANINE FLOOR:
A mezzanine floor is permitted with a minimum height of 2.75m.
BASEMENT:
Every component of a basement must be at least 2.5 meters above the ground, and the ceiling cannot be higher than 4.5 meters.

The basement must have sufficient ventilation.

Any basement's ceiling must be at least 0.9 meters and at most 1.2 meters high.

A suitable mechanism must prevent surface drainage from entering the basement.

A suitable mechanism must be constructed to prevent surface drainage from entering the basement.

Each compartment may be at least 50.0 square meters if the Authority permits basement partitioning.
GARAGE:
i) The garage's plinth at ground level must be at least 15 cm above surrounding ground level.

ii) The garages must not obstruct the building's entrances and must be placed back from the building line of the street or road that the plot abuts. The Authority may order the owner or occupant of the garage to stop using it as a garage, make the necessary structural changes to the property, or take other actions the Authority deems necessary to prevent danger or obstruction to traffic along the street if the garage is not set back as directed. 
OPEN SPACES (WITHIN A PLOT):
General:
Open spaces in and around the building cater to better lighting and ventilation. The open spaces can also distinguish two building if it has more than one wing. However, the separation between the accessory and the main building should be at most 7m in height and at most 1.5m. 
Residential buildings:

The exterior open space for residential buildings should be a height of 10m.

For streets that are less than m in width, the width distance from the center line of the road should be 5m.

Every residential site has an average of 3m rear open space and should be at least 1.8m. In the case of back-to-back sites, the area is 3m throughout. 

Plots of depth less than 9m, for 7m buildings in height, the rear open space is reduced to 1.5m. 

Every building facing the street may have front open space, and for detached structures, there should be a minimum side open space of 3m on both sides. 

For row-type buildings, no side space is needed.

For a semi-detached building, the open space should be 3m on one side. 

Other occupancies
Educational buildings: Other than nursery schools, the open space around the building should be at least 6m.
Institutional buildings: The open space around the building should be at least 6m.
Assembly buildings: The open space at the front should be at least 12m, and other open space around the building should be at least 6m.
Business, mercantile, and storage buildings: The open space around the building should be at least 4.5m for heights up to 16m.
Industrial building: The open space around the building should be at least 4.5m for heights up to 16m.
Hazardous occupancies: The open space around the building is specified for industrial buildings.
AREA AND HEIGHT LIMITATIONS:
Different occupancy classes and types of buildings must adhere to height and area restrictions. The minimum fire separation on all sides of buildings of unlimited areas and year one construction shall be 9m. The area limit shall apply to all types of buildings with front space of street or public space should not be less than 9m wide accessible to the street.
OFF STREET PARKING SPACES:
The minimum parking space for cars is 3m*6m when individual parking space is required and 2.75m*5m when common parking space is needed. 

Space for scooter/two-wheeler or bicycle to be at least 1.25m.sq and 1.00m.sq, respectively. 

In buildings of mercantile, industrial, and storage types, 3.5m*7.5m is provided for loading and unloading activities for each 1000m sq. floor area. 

Apart from ground-level parking, permissions were granted for multi-story or podium parking. In this case, as parking is provided in basements, at least two ramps should be provided. They should be located at opposite ends. Here, special measures for fire safety should be taken. 
STAIRCASE/EXIT REQUIREMENTS:
Minimum clear width:
Residential (A-2) – 1.00m

(row housing with two stories, the minimum width shall be 0.75m)

Residential (A-1, A-3, A-4) – 1.25m

Residential hotel (A-5, A-6) – 1.50m

Assembly – 2.00m

(The width of stairs may be approximately 1.50m in case of assembly occupancy having less than 150 persons.)

Educational – 1.50m

Institutional – 2.00m

All other occupancies – 1.50m

Minimum tread: The minimum width of the tread without nosing shall be 300mm. It may be reduced to 250mm at maximum for one or two-family dwellings.
Maximum riser: The maximum height of the riser shall be 150mm. It can be no more than 190mm for one or two families. The number of risers shall be limited to 12 per flight.

A staircase landing's underpass must have a minimum of 2.2 meters of headroom.
Exit requirements:
Every structure intended for human habitation must have enough exits to allow residents to leave safely in the event of a fire or other emergency.

Every exit from a building must meet the minimum standards outlined in this section, except those inaccessible to the general public.

There shall be no barriers in any existence.

No structure may be altered to lessen the requisite number, width, or percentage of exits.

Exits must be readily visible, with paths to them clearly defined and signs displayed to direct people to the floor in question.

All exits must have enough lighting.

Firefighting equipment that is provided near exits must be appropriately positioned and clearly labeled, but it must not block the exit way and must be readily visible from both sides of the exit way.

Wherever necessary, alarm devices must be fitted to ensure quick evacuation of the affected persons through the exits.

Every exit must offer a continuous route to the building's exterior or to a public area outside that leads to a street.

Exits must be placed so they may be reached only if, in the case of residential structures, another occupied unit exists.
Type of exit:
It can be horizontal or vertical type. An exit could be a doorway, a passageway leading to an internal or exterior staircase, a ramp, a verandah, and terraces with access to the street or a building's roof. A horizontal exit leading to a building that is next and on the same level is likewise considered an exit.
Number and size of exits:
Based on the number of people in each room and level, the capacity of the exits, the travel distance, and the height of the buildings, the necessary number and size of various exits shall be supplied.
FIRE AND LIFE SAFETY:
1) Fire-resistant walls, floors, and compartments:
To limit the spread of fire.

No compromise for openings such as shafts, refuse chutes, vertical openings, etc.
2) Shafts:
To be provided with a fire-resistant rated inspection door for the passage of the building

services such as cables, electrical wires, telephone cables, plumbing pipes, etc depending upon location.
3) Refuge area:
An area within the building for temporary use during egress. It generally serves as a staging area protected from the effects of fire and smoke.
4) Fire detection and – firefighting installations:
These include fire alarms, fire extinguishers, hose reels, wet risers, comer,

yard hydrants, sprinklers, deluge systems, water spray, foam, water mist systems, gaseous or dry powder systems, water storage tanks, pumps, etc.
5) Means of egress:
Consists of three separate and distinct parts, that is, exit access, exit, and exit discharge

Exit access is working/functional areas

Various types of exit access and exits are doorways, corridors and passageways, horizontal exits, internal staircases, exit passageways, external staircases, and ramps.
6) Firefighting shafts:
With fireman talk back, fire door, wet riser, hose reel, signage showing floor plan and stairways, and fireman's lift.
Likewise, the building codes have many more inclusions, revisions, and updations. There are lot more to know about this 2016 revision. When you are constructing a building, you should be aware of the required codes. By hiring Noah Infrastructures, you will be helped in such a way as we are working as per NBC. Being the top civil construction company in Chennai, we have completed numerous projects successfully that undergo NBC codes. Hence, you won't be getting any legal issues in the future. Hire us for a happy, tension-free future.