The Best Marriage Hall Civil Contractors:
Noah Infrastructures Pvt Ltd, the Best Civil Contractors, we are expertise in constructing marriage halls. We have constructed Kamaraj Marriage Hall in Chennai and JJ Paradise Marriage Hall at red hills. We are pleased to provide our services to your expectation. Any requirement you may have, Noah is the one you need to contact. To all of our customers, we offer first-rate services that consistently satisfy their needs. Our suggestions for improving the aesthetics of your dream project and the way the results of our ideas align with the goals of the building encourage clients to return to us for their future projects. Give us your instructions so that we can prepare them and deliver them to you.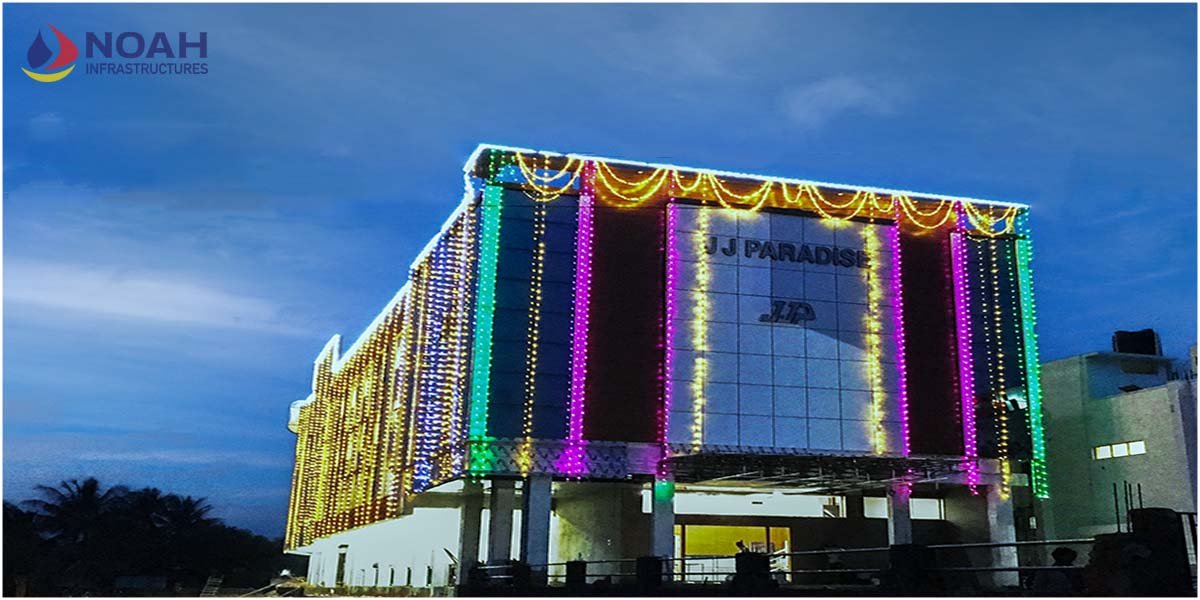 Our Projects:
With the highest level of quality, we have completed a number of commercial projects, like marriage halls. Our company, a Marriage hall Civil Contractor in Chennai, is well versed in producing commercial buildings. We reach out and offer the interior design that would best suit the needs of the business. Therefore, it is crucial to design the environment in this way.
Our Strength:
Our team is our strength since they are so enthused, informed, current, and willing to work while also coming up with innovative plans that don't interfere with the building's intended purpose. We also have tons of our own trucks and modern machinery, which helps us do projects quickly. These are the key components that keep us above the competition when compared to other marriage hall civil contractors in Chennai. Our relationship with them reveals how well we handle consumers and how trustworthy we are. To allow our clients to relax and not worry about the progress of the project, we keep them regularly updated on its status.
Our Services:
We offer a variety of services, such as planning, client consultation, client specification detailing, material supply, collaborating on novel ideas with people's needs, dealing with government approvals, adhering to vastu expert's advice, structural drawing, recommending the best and most cost-effective brands, recommending apt interiors etc. We are here to provide you the apt and innovative solutions to your needs. Feel free to contact us.
Steps involved in marriage hall construction:
Constructing a marriage hall is a complex and exciting venture that involves several necessary steps. These steps ensure the hall is well-designed, safe, and suitable for hosting weddings and other events. Here are the critical steps involved in the construction of a marriage hall:
Planning and Designing:
The first and foremost step is to have thorough planning and designing. This involves identifying the purpose of the hall. While constructing the hall,
Obtaining Necessary Permits: 
It is the marriage hall builders' responsibility to get the required permits. It must obtain the necessary approvals from local government authorities before construction starts. These permits ensure that the construction adheres to safety and zoning regulations.
Site Preparation: 
The chosen site for the marriage hall needs to be prepared appropriately. This includes clearing the land, leveling the ground, and ensuring the soil is stable for construction. Adequate drainage systems should also be installed to prevent waterlogging.
Foundation Construction:
The foundation is the backbone of any building. In this step, the foundation is laid, which provides stability and support to the structure. The type of foundation used depends on the soil conditions and local building codes.
Structural Framing: 
Once the foundation is in place, the structural framework of the marriage hall is constructed. This includes the walls, columns, and roof structure. Steel or reinforced concrete is commonly used for these components to ensure strength and durability.
Roofing and Flooring: 
Installation of roofing materials helps in providing shelter from the elements. While choosing flooring materials helps in the durability and aesthetics of the buildings. These choices can vary greatly depending on the design and budget of the project.
Electrical and Plumbing Work:
Plumbing and electrical systems are necessary for any modern wedding venue. Electricians and plumbers install wiring, lighting, outlets, plumbing fixtures, and other essential procedures.
Interior and Exterior Finishes: 
The interior and exterior of the hall are then finished. This involves painting, tiling, plastering, and installing doors and windows. The choice of finishes should align with the overall design and color scheme.
Landscaping and Exterior Amenities: 
Landscaping around the marriage hall is crucial for creating an appealing environment. This also includes planting, pathway setup, and the addition of other amenities.
Quality Inspection and Testing: 
A thorough inspection is necessary before opening the marriage hall to the public. This ensures that all systems function correctly and that the construction meets safety standards.
Interior Furnishing: 
The hall's interior has tables, chairs, decorations, and other items necessary for hosting events. Proper seating arrangements are made to accommodate the expected number of guests.
Final Inspection and Certification: 
Once all construction and interior work is complete, a final inspection is done. This ensures that the marriage hall meets all safety and building code requirements. Upon passing the examination, the hall is certified for use. Construction contractors have to take care of it.
Opening and Marketing: 
With all approvals in place, the marriage hall is ready to be opened for business. Marketing efforts are crucial to attracting clients and bookings for weddings and other events.
Experience Quality Construction With Chennai's Top Civil Contractors. Contact Us Now!