Best Commercial Civil Contractors:
As a Civil Construction Company in Chennai, Noah Infrastructures Pvt Ltd, we are pleased to provide our services in aiding your business or commercial endeavors. Any requirement you may have, Noah is the one you need to contact. To all of our customers, we offer first-rate services that consistently satisfy their needs. Our suggestions for improving the aesthetics of your dream project and the way the results of our ideas align with the goals of the building encourage clients to return to us for their future projects. Give us your instructions so we can get them ready and provide in your hands.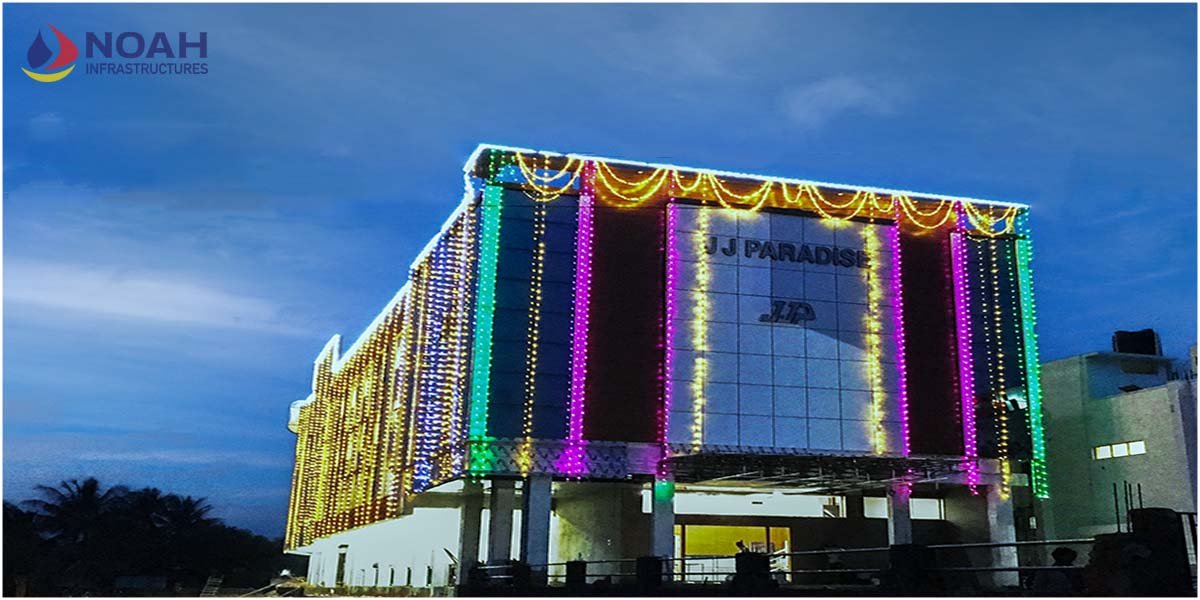 Our projects:
With the highest level of quality, we have completed a number of commercial projects, including commercial buildings like marriage halls, restaurants, retail spaces, etc.  Our company, a Turnkey Civil Contractor in Chennai, is well versed in producing commercial buildings.  We reach out and offer the interior design that would best suit the needs of the business. Your staff must work quietly and produce worthwhile results. Therefore, it is crucial to design the environment in this way.
Our strength:
Our crew is our strength since they are so enthusiastic, knowledgeable, up to date, and eager to work while also coming up with creative plans that don't compromise the building's intended use. We also flooded with modern machineries and number of own vehicles which helps to finish the tasks on time.  In comparison to other Commercial Civil Contractors in Chennai, these are the essential element that maintains us above the others.  How well we treat our customers and how reliable we are can be inferred from our relationship with them. We constantly keep our clients informed of the status of the project so they can rest and not worry about what's going on the job site.
Our services:
We offer a variety of services, such as planning, client consultation, client specification detailing, material supply, collaborating on novel ideas with people's needs, dealing with government approvals, adhering to vastu expert's advice, structural drawing, recommending the best and most cost-effective brands, recommending apt interiors etc.  We are here to provide you the apt and innovative solutions to your needs. Feel free to contact us.
The Role of Commercial Civil Contractors in Chennai:
Project planning and designing: As a commercial building contractor, we start by planning the project execution. Handling of this phase is by our project management team. They discuss with clients their demands and ideas. Collaborating with engineers and designers, they finalized the drawing and scheduled the task. We specialize in commercial construction and have unique and trending ideas to implement. 
Construction management: This phase includes the overseeing of projects. Purchasing materials, employing personnel, stock-checking, and other project management activities are included. It also ensures the project stays on budget and on time completion.
Quality Assurance: Ensure the quality of the project by hiring proficient engineers and designers and checking the quality of the raw materials. This leads to structural soundness and aesthetic appeal. 
Sustainability:  They are integrating sustainable construction practices and materials to create environmentally-friendly spaces. This leads to energy-efficient commercial spaces where no problems arise.
Compliance and documentation: Handling all legal and regulatory aspects is the most crucial factor to consider. We get the necessary permits and maintain accurate records for the project. 
Problem Solving and Conflict Resolution: Address unexpected challenges and issues that may arise during construction promptly. Mediate disputes between different stakeholders, such as subcontractors or suppliers. Implement effective problem-solving strategies to keep the project on track.
Communication and Reporting: Maintain transparent communication channels with the project team, clients, and stakeholders. Provide regular progress reports, updates, and documentation to clients and project managers. Keep parties informed about changes, delays, or any significant developments in the project.
Noah Infrastructures is upgrading the commercial building. We have many responsibilities in the construction sector as leading commercial contractors. At each stage, from conception to completion, we offer help. To relieve your stress, we provide post-construction services, too. Hire us to have top-to-bottom quality construction services.
Experience Quality Construction With Chennai's Top Civil Contractors. Contact Us Now!