Best Hotels/ Resorts Civil Contractors:
As a Hotel Construction Company in Chennai, Noah Infrastructures Pvt Ltd, we are pleased to provide our services in aiding your hotels – resorts endeavors. Any requirement you may have, Noah is the one you need to contact. To all of our customers, we offer first-rate services that consistently satisfy their needs. Our suggestions for improving the aesthetics of your dream project and the way the results of our ideas align with the goals of the building encourage clients to return to us for their future projects. Give us your instructions so we can get them ready and provide in your hands.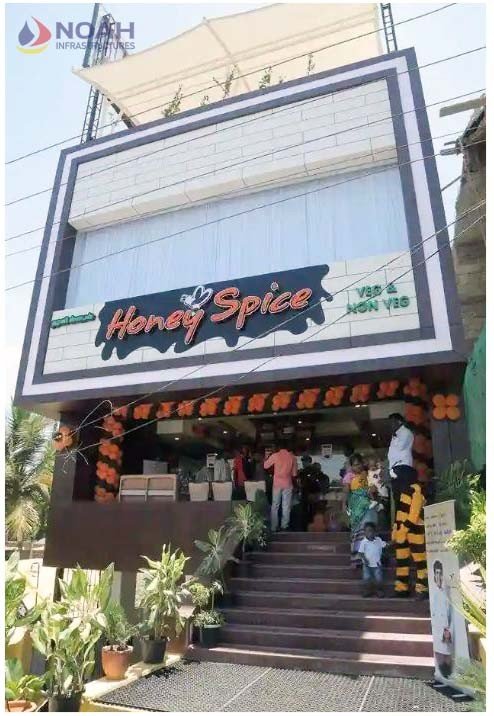 Specialization:
With the highest level of quality, we have completed a number of commercial projects, including restaurants, hotels and resorts. Our company, a Hotels Civil Contractor in Chennai, is well versed in producing high level hotels. We reach out and offer the interior design that would best suit the needs of the business. Clients and customers of yours should be happy and relaxed to stay in your hotels. So it is crucial to create the ambiance in such a way. We are loaded with numerous ideas as we are capable of bringing outside world inside the room, creating classy ambience even in a very small space. We know how to do lighting to each and every place in hotels and resorts.
Gardening:
Not only ambience of inner hotel or resort is important. It is also vital to maintain the same level ambience outside the hotel or resort. It is advisable to have plants or garden at the entrance, because green will refresh and soothe the moods of people. When people are entering by seeing the greens, their brain will get refreshed so that their impression on hotel may change positively. Being the Commercial Hotel Civil Contractors in Chennai, we are sportive to take challenging projects and to satisfy you by our services. Grab your chance by booking us.
Experience Quality Construction With Chennai's Top Civil Contractors. Contact Us Now!